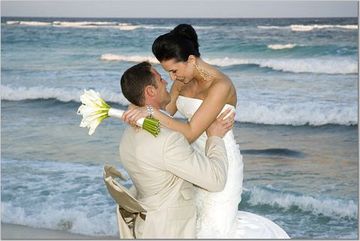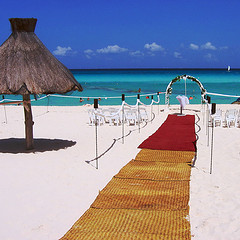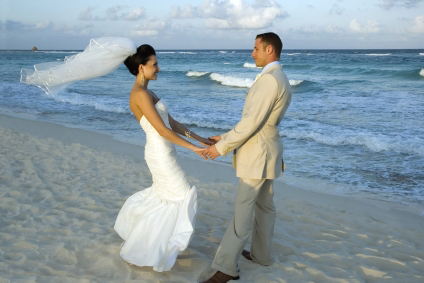 Beach Wedding Gowns
Many brides today are looking for a more casual and intimate way to get married without all the stuff and fuss of an expensive formal wedding. One option that works well for brides looking for a less formal route is the beach wedding. Brides are now choosing to be married on public beaches and in private resorts at the water's edge. Destination weddings, once skeptically viewed as an elopement with a fancier name, have become all the rage and beach weddings in exotic locales such as Hawaii, the Caribbean, St. Thomas and Cozumel are filling the dreams and thoughts of many happy couples. A beach wedding is as different from a formal wedding as day and night and calls for a much different bridal ensemble. Beach wedding dresses seem to fit the bill nicely and are gaining in popularity.

Many beach wedding gowns feature lovely embellishments such as fringe, sequins, pearls, open Battenburg cutwork, lace, bows and mother of pearl clasps. Beach wedding dresses are frequently constructed of the finest materials such as satin, silk, lace and shantung silk.

Compared to the outrageous prices of formal garments, beach wedding gowns can be quite reasonable in price. A gorgeous beach wedding gown can often be had for under $150 and some can even be found for well under $100.
Beach wedding dresses typically feature traditional wedding gown colors such as ivory and white as well as garments with splashes of beach colors such as aqua against an ivory or white background. Also be sure to look for designs such as jacquard when you are shopping around for beach wedding garments. Also keep an eye out for designs with a hibiscus imprint for an exotic and exciting look.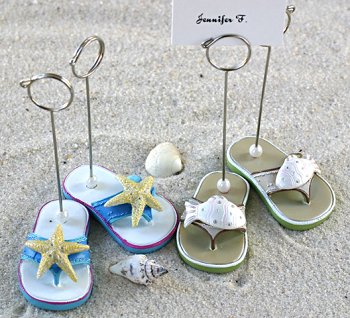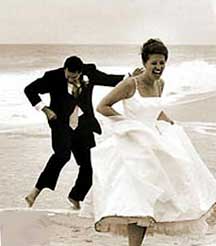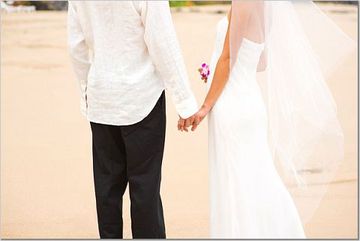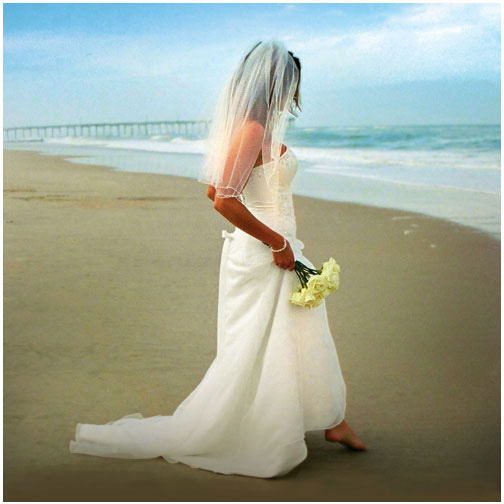 For a romantic look consider a lace sarong with a touch of lilac or other soft pastel color. This style dress usually starts at around $69.
Some beach wedding gowns are sheer with an overlay that can create a lovely and romantic image as the brides walks toward her groom on the beach at sunset. The styles and designs in beach wedding dresses are surprisingly prolific with many dresses featuring halter tops as well as spaghetti straps and choker style necklines. The bust wrap is also a popular look. Skirts may either be fitted in a mermaid style or loose and flowing. Sarong style skirts typically feature a gorgeous design element such as a band of color or fringe that blows in the warm tropical breeze.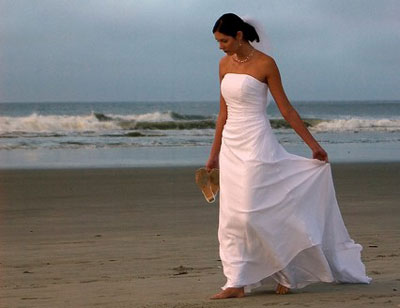 The accessories along with it perfectly complete the look for a beach bridal ensemble. Consider stoles, parasols or shawls as well as exotic and beach themed jewelry. When shopping for the right ones, remember to keep your comfort level and the sizing of the dress in mind as more streamlined designs will fit slightly different than a gown that is more loose and flowing.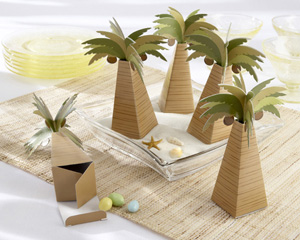 Attendant garments to match beach wedding ones are usually available in similar sarong styles and come in bold and vibrant colors to match every beach style wedding color scheme. Look for corals, aquas and hot pinks. Shimmery pastels are also available such as lilac, blush and champagne.